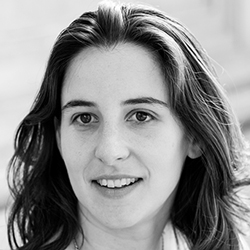 Elizabeth Greenspan is a writer and urban anthropologist, currently affiliated with the School of Design at the University of Pennsylvania. Her book, Battle for Ground Zero, about the politics of commerce and commemoration at the World Trade Center site, was published in 2013 by St. Martin's Press. She writes regularly about cities, architecture, and real estate for the New Yorker's Currency blog, and her essays and reviews have also appeared in Architect Magazine, The Atlantic, Bloomberg Businessweek, The Boston Globe, Pacific Standard, Salon, and others.
Liz received a PhD in anthropology and urban studies from the University of Pennsylvania, and her research interests include urban ethnography, history of architecture, New York City, and the politics and design of public space. She has taught writing at Harvard University and urban studies at the University of Pennsylvania.
Liz has appeared on numerous radio and television programs, including NPR's Here and Now, PRI's The World, WNYC's Leonard Lopate Show, and CSPAN's BookTV. She also speaks regularly about cities, architecture, and memorialization at colleges and universities, including Boston College, Brandeis, The New School, Harvard, Endicott College, Haverford College, Temple University, Gothenburg University, and Syracuse University.
She lives in Philadelphia, PA.